When it comes to creating a brand identity, one of the key elements is a well-designed logo. Logos play a significant role in representing a brand's personality, values, and uniqueness. They serve as visual ambassadors, instantly recognizable symbols that leave a lasting impression on consumers' minds. However, with a myriad of logotypes to choose from, it can be overwhelming for businesses to determine which style best suits their needs.
In this blog, we will explore the different logotypes and their characteristics, helping you make an informed decision for your brand. So, grab a cup of coffee, settle in, and let's delve into the fascinating world of logo design!
Different LogoTypes and Their Usage
Wordmark or Logotypes
A wordmark or logotype is a type of logo that primarily focuses on the brand name itself. These logos typically feature custom-designed typography that captures the essence of the brand. Famous examples include Coca-Cola, Google, and FedEx. Wordmarks are ideal for brands with distinctive and memorable names, as they emphasize the textual element and establish strong brand recognition. They can range from elegant and sophisticated to playful and vibrant, depending on the brand's personality.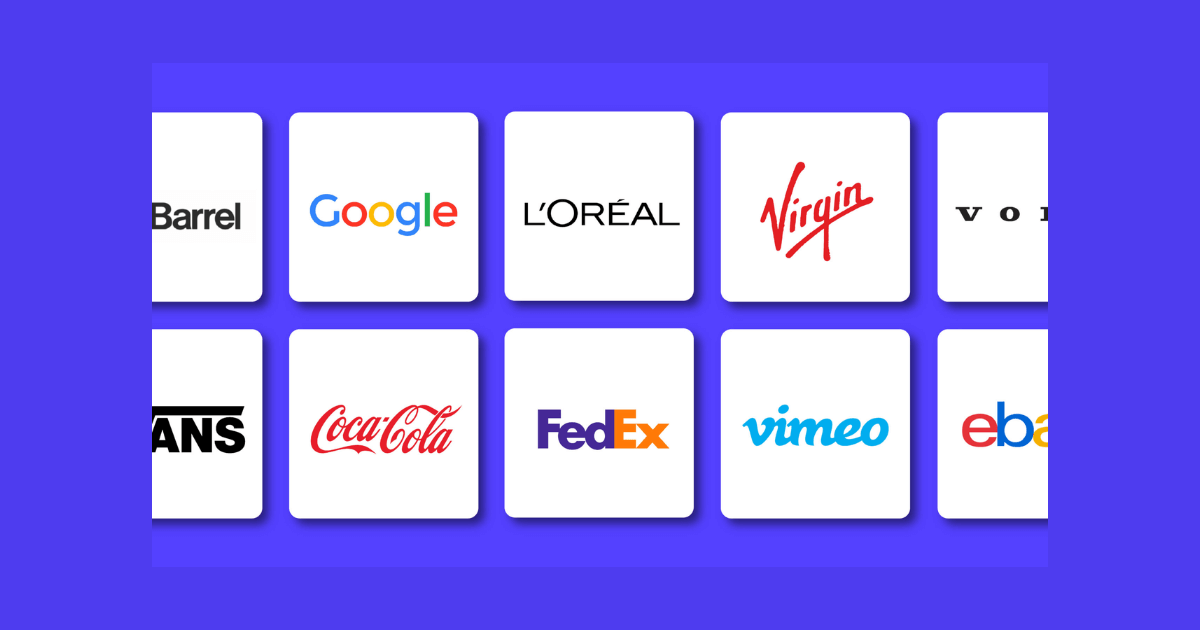 Lettermark
Lettermark logos take a similar approach to wordmarks but condense the brand's name into initials or an acronym. Companies with long or complex names often opt for letter marks to simplify their visual identity. Examples of successful lettermark logos include IBM, HBO, and NASA. The challenge with letter marks lies in creating a visually appealing design that represents the brand effectively using just a few letters. Typography plays a crucial role in letter mark logos, as font choice and styling become key in conveying the brand's personality.
Pictorial Mark or Symbol
Pictorial mark logos utilize visual symbols or icons to represent a brand. These symbols can be abstract or literal, but the goal is to create a recognizable image that embodies the brand's identity. Apple's iconic bitten apple and Twitter's bird logo are prime examples. Pictorial marks are powerful tools for brand recognition, as they can transcend language barriers and leave a lasting visual impact. They are particularly effective when paired with a strong brand name, allowing the symbol to be associated with the brand even without the accompanying text.
Abstract Mark
Abstract mark logos are characterized by unique, non-representational designs. They rely on shapes, colors, and patterns to create an intriguing visual identity. Examples include the Nike "swoosh" and Pepsi's multi-colored circle. Abstract marks provide an opportunity for creativity and open interpretation, allowing the audience to form their own associations and meanings. These logos are ideal for brands looking to convey innovation, creativity, and a sense of uniqueness.
Emblem
Emblem logos combine text and symbols into a single, cohesive design. They often resemble badges, seals, or crests, giving a sense of tradition, authority, or exclusivity. Brands like Starbucks and Harley-Davidson feature emblem logos. Emblems tend to have a classic and timeless appearance, making them suitable for businesses with a rich history or a connection to heritage. However, it's important to consider that emblems can be more complex and may not scale well in smaller sizes or certain applications.
Mascot
Mascot logos employ illustrated characters or figures to represent a brand. They are commonly seen in sports teams, food and beverage brands, and children's products. Mascots add a friendly and approachable element to a brand's visual identity, creating a connection with the audience. KFC's Colonel Sanders and the Kool-Aid Man are beloved examples of successful mascot logos. Designing a mascot logo requires careful attention to character design and ensuring it aligns with the brand's personality and target audience.
Combination Mark
Combination marks, as the name suggests, combine both text and symbols to create a comprehensive logo. These logos offer versatility and the ability to be recognized with or without the accompanying elements. Brands like Adidas and Burger King utilize combination marks to maximize their brand impact. Combination marks provide the advantage of having a unique symbol that can be associated with the brand, alongside the flexibility of utilizing the brand name for clearer identification.
Badge
Badge logos are designed to resemble badges, seals, or crests, often associated with authenticity, authority, or membership. They are commonly used in government organizations, educational institutions, and luxury brands. Badge logos convey a sense of trust, professionalism, and exclusivity. However, they may not be suitable for all industries, as the traditional aesthetic might not align with modern or casual brands.
Responsive Logo
Responsive logos are designed to adapt to various platforms, devices, and screen sizes. With the ever-increasing use of digital media, responsive logos ensure optimal display and maintain the brand's integrity across different applications. Responsive logos can be any type, but they are specifically designed to be flexible and scalable. They offer adaptability without compromising recognition, making them a practical choice for brands seeking a consistent visual identity across multiple channels.
Selecting the right logo type for your brand is a crucial step in establishing a strong visual identity. Each logotype has its own strengths and considerations, and it's essential to align your choice with your brand's personality, target audience, and industry. By understanding the characteristics and purposes of different logotypes, you can make an informed decision that effectively represents your brand. Remember, a well-designed logo can be a powerful tool in creating brand recognition, establishing trust, and leaving a lasting impression on your audience.
Frequently Asked Questions:
What are the 7 types of logos?
The seven types of logos are wordmark or logotype, letter mark, pictorial mark or symbol, abstract mark, emblem, mascot, and combination mark.
 What are the kinds of logos?
There are various kinds of logos, including wordmarks, letter marks, pictorial marks, abstract marks, emblems, mascots, combination marks, and responsive logos.
What are the 5 basic types of logos?
The five basic types of logos are wordmarks, letter marks, pictorial marks, abstract marks, and emblems.
Which logo style is best?
The best logo style depends on several factors, including the brand's identity, target audience, industry, and personal preferences. It's critical to select a logo style that complements your business and accurately conveys your identity because each one has advantages and disadvantages of its own.
Related Articles: 
How Fonts Impact Branding? Easy Guide